Brookvale Hyundai New & Used Car Sales
Col Crawford Hyundai dealer Sydney
At Col Crawford Hyundai it is our objective to ensure that you receive only the finest ongoing service throughout the ownership of your vehicle.
With departments in Hyundai Sales, Service, Parts and Accessories, Finance and BMW Premium Certified, Col Crawford Motors is here for all your Hyundai needs.
493 Pittwater Road, Brookvale 2100
Proudly family owned and servicing Sydney's Northern Beaches community for decades, we are passionate about what we do. The secret to our success is premium service and outstanding prices, so please call or visit our Hyundai showroom and experience the difference for yourself!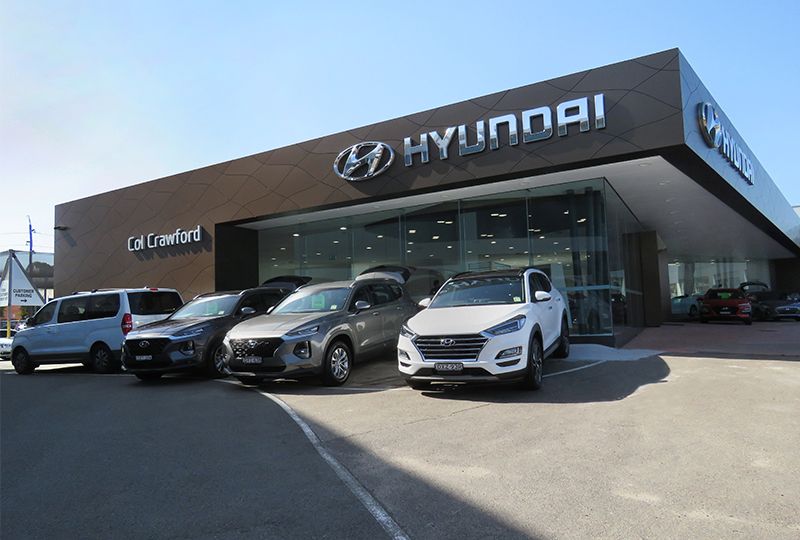 Talk2Stop Yap

I like to thank Andrew Powe from spare parts department for his professionalism services render to me today. I am sorry, I eventually end up buying from another Hyundai dealership because of locality, safety related and urgency. You may not get my business today but I certainly will recommend others to Crawford Hyundai.

Rob Sawyer

Picked up my second Hyundai I30 today. Fantastic service from Jacob at this dealership. Very honest and professional plus a straightforward process which made the whole experience easy and enjoyable. From the initial sale to delivery it was all a first rate ride. Can strongly recommend these guys, especially Jacob.

Arsanie Sawiers

Can't speak highly enough of the team at Col Crawford Hyundai and specifically Angus. Absolute pleasure to deal with, seamless customer service and we could not possibly have asked for a better experience. Thanks a lot!

A. A

Great, helpful Customer Service from Gary Collins. Thanks Gary ☺️

Wayne Gluyas

5 star service! We have purchased 2 cars from Col Crawford. They provide excellent, friendly service. Jesse was so helpful and knowledgeable about their range of cars.Gautam expertly handled the finances. My wife was thrilled with the car, it came with a bow. We highly recommend Col Crawford Hyundai.

Graham Wright

I recently purchased a Staria Load from Julia at this dealership and she couldn't have been more helpful. From the very first enquiry through to collection day she was friendly and attentive without being pushy. Even post sale she has followed up to ensure I am satisfied and has assisted me with a number of enquiries. She's an asset to the business. Thanks Julia!

Petrus Kwan

Huge thanks to Gary who helped me with the purchase of a new car. He was extremely friendly, knowledgeable and kept me updated on the progress of the wait times. Couldn't recommend higher!!

Lachlan Sinclair

Can definitely recommend these guys if you are in the market for a new Hyundai. Didn't encounter any pushy sales tactics – was just presented with the options available and left to decide for myself. Great communication, was kept in the loop and any queries I had were responded to promptly. Thanks to Jacob and the rest of the team for an effortless car purchasing experience!