BMW New & BMW Premium Certified
Col Crawford BMW dealer Sydney
At Col Crawford Motors it is our ongoing objective to ensure that our customers receive only the finest ongoing service throughout the ownership of every BMW vehicle sold.
With departments in BMW Sales, Service, Parts and Accessories, Finance and BMW Premium Certified, Col Crawford Motors is here for all your BMW needs.
489 Pittwater Road, Brookvale NSW 2100
Proudly family owned and servicing Sydney's Northern Beaches for decades, we are the oldest and most respected BMW franchise in Australia. The secret to our success - Premium Service and outstanding prices. Call or visit our state of the art showroom and experience the difference for yourself!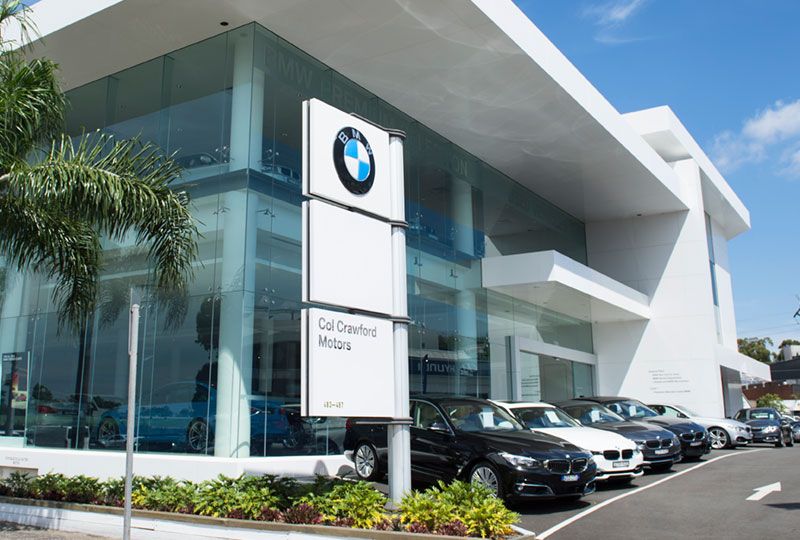 Rocco Agnese

The team at Col Crawford BMW made my family's recent purchase of a 2 Series Grand Coupe (220i) a smooth and wonderful experience. Having approached other dealerships around Sydney, Col Crawford were the most knowledgeable and welcoming giving us full confidence in their services. Many thanks to Pearl, David and Josh for their great customer service and help throughout the process.

Thomas Muir

picked up my new X5 from Col Crawfords last week and couldnt be happier. Israel Cruz did a great job looking after me and it was a pleasure having Pearl assist with the delivery.

Matt Leeming

Best BMW service manager in the business.

Jonathan Perrin

These guys are great. We had an issue with our car (notices coming up on monitor). We were able to book it in reasonably quickly. There were 3 or 4 issues (our car is 9 year old) and Dave was able to explain the issues in layman's words and all issues were fixed the same day (no wait for parts etc). Offered a loan car which we didn't need in the end but those little touches are lovely.

Lydia Rogers

Joel and Daniel were a pleasure to deal with at Col Crawford. They were very attentive and detail orientated in securing and delivering a new X1. Their service was exceptional and small details, such as a gift box on day of delivery was lovely touch.

Anni Rowland-Campbell

The team at Col Crawford were marvellous! From perfectly brewed cups of tea to a patient and thorough explanation of my new car ... I cannot recommend them highly enough. Thank you!

Nick G

What a team! From the moment we walked into Col Crawford BMW we were not only thrilled with the product, but the service from ALL the staff was immaculate. Having an immediate family member who has been in the industry since well before I could drive, I have always purchased vehicles through them and haven't had to put much thought into the process. This was the first time I decided I wanted to step up to a European product and spoil myself with the additional luxury these vehicles offer. W...

Matt Cranney

Recently took delivery of my iX1 from Col Crawford Motors. The entire experience was first class despite the lead times (which were completely out of the control of the dealership). From sale, to pre delivery, to delivery the team were highly professional and friendly. With long lead times, communication is key, and the team of Joel, Jamie and Daniel were brilliant. A big thanks. Would definitely use again.

Caroline Micallef

I want to thank Joel, Israel and Daniel for assisting me to purchase my new Tanzanite Blue BMW last week.The family at Col Crawford BMW are very professional and they were extremely willing to answer my questions and guide me through the process. Israel spent time with me setting up the car computer. The guys were so down to earth, intuitive and able to relate to me as a female buying a car. I am assured I am able to contact them anytime I have a problem which is a bonus. I am lucky to have g...

Hayden Daniels

If I could give more than 5 stars I would. Thanks again to David and Pearl for the amazing experience and high level customer care when it came to my purchase of the M2. The company should be proud to have both of you there representing the company and I look forward to collecting the X1 early next year